PACO•VIA™ 3000:
A BLIND VIA HOLE LAMINATING FILM
OVERVIEW
PACO•VIA™ 3000 is a two-sided release film designed to be part of a Two-Component System (PACO•VIA™ 3000 and PACOPADS™) as a performance-driven line of High-Temperature, Resin-Blocking Release Films. The PACO•VIA™ 3000 System is specifically engineered to enhance sequential lamination of Buried and Blind Via designed rigid printed Circuit Boards.
LAMINATION PROCESS ADVANTAGES
Resin Containment: PACO•VIA™ 3000 Resin-Blocking Film contains the resin within the via barrel eliminating the need for secondary processing to remove cured resin from the panel surface
Barrel Fill: PACO•VIA™ 3000 Resin Blocking Film allows the liquid resin to essentially fill the via Barrel
Contain Resin Squeeze-out: PACO•VIA™ 3000 contains resin squeeze-out like traditional release films while offering superior copper surface buffering from damaged Separator Plates
Equalization of Pressure throughout the Pressure Load: The PACOPADS™ component of the PACO•VIA™ 3000 System ensures complete barrel fill, and controlled Dielectric Thickness. PACOPADS™ eliminate air voids, inner-layer slippage and white corners or edges. PACOPADS™ also reduce image and glass cloth Transfer, and alleviate the potential of low-pressure prepreg Blisters
FEATURES
Two engineered Grades to fit all sequential lamination demands
Choice of PACOPADS™ Pressure Equalizing Press Pads designed to suit all lamination process parameters
Operating temperature of 425°F / 218°C for up to 4 hours
Essentially inert, no out-gassing, plate residue, interlaminate adhesion influence, no vacuum system contamination
Environmentally friendly: no chrome-depleting chemicals, no Fluorine's
The PACO•VIA™ 3000 System is designed to contain the resin flow within Blind Via Holes (onto adjacent copper-carrying layers) and to fill buried Via Barrels, under a wide range of Lamination Pressures (175-350 psi/12-24 kg/cm2), Hole Diameters (.004 to .040"/0.1 to 1.0mm), Heat Rises and Prepreg types
The PACO•VIA™ 3000 System performs effectively well in Hydraulic and Hydraulic Vacuum-assist as well as with both stainless steel and aluminum Separator Plates. Steel is preferred
The PACO•VIA™ 3000 System is suitable for all resin system types when laminated within the listed temperature constraints
RECOMMENDED LAMINATION LAY-UP
needs to be added.....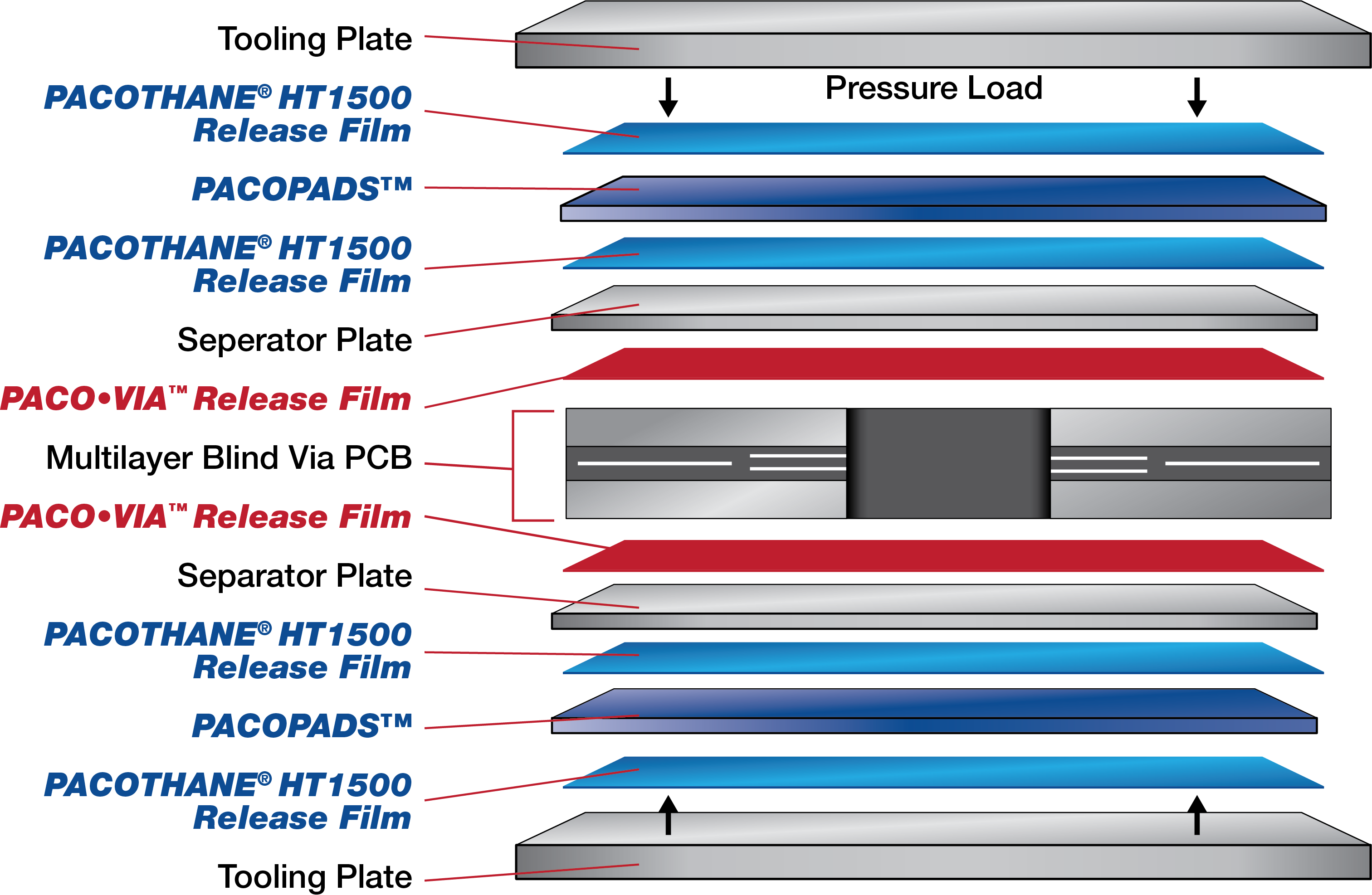 DESCRIPTION OF STANDARDS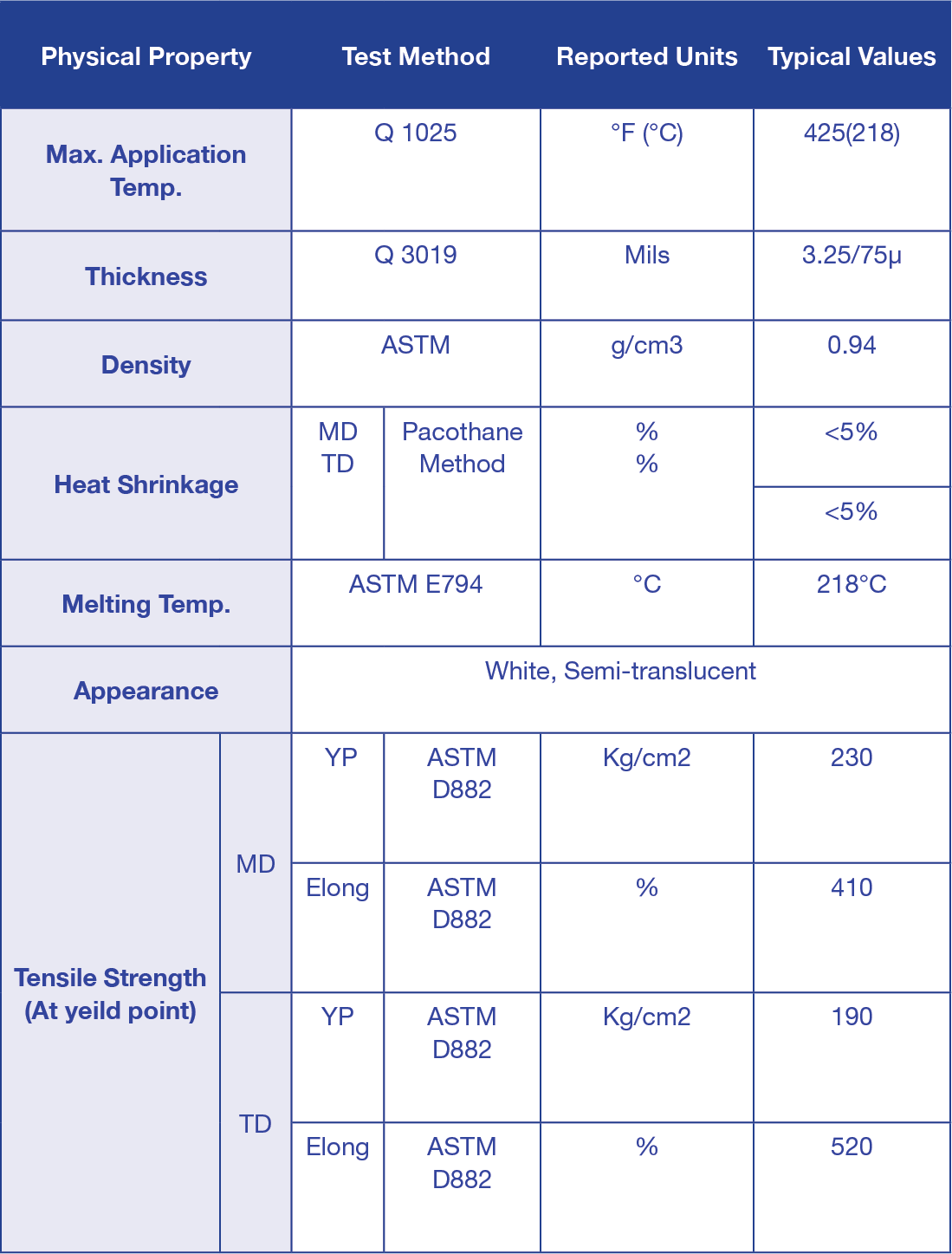 AVAILABILITY
PACO•VIA™ 3000 Conformal Release Film is available in rolls and in custom-made sheet sizes, tooled to customer specifications. The complete line of Pacothane Technologies products is available from leading local Distributors Worldwide who offer "Just in Time" delivery from locally-available stocks.
SAFETY