PACOTHANE® LE 2000:

FOR LAMINATION OF RIGID MULTILAYER, FLEXIBLE CIRCUITS AND UNCLAD LAMINATES
OVERVIEW
PACOTHANE® LE2000 – is designated for those Pacothane release film applications that require a very low extraction of residues on the surface of the laminated substrate. "LE" is perfect for Unclad, Kapton and Stiffener builds which require pristine surfaces post lamination for further secondary sequential lamination builds or printing applications.
LAMINATION APPLICATIONS
Rigid Multilayer Panels: to contain resin squeeze-out; to buffer and protect copper from damaged plates; to minimize stress effect from aluminum plates; to reduce frequency of plate cleaning; to increase plate life; to prevent press pads from sticking to plates or bonding to tooling pins. (See lay-up recommendation)
Flex, Rigid-Flex Panels: to contain resin squeeze-out; for complete conformity to part topography; to provide easy separation of conformal hydraulics and driver pads from PCB surfaces. (See lay-up recommendation)
For both of the above applications "LE" creates a better surface quality on Copper Foil, Kapton and various Unclad Resins where optimum post lamination cleaning processes may not be available.
FEATURES
Contaminate free release from resins and separator plates
Rated for Operating Temperatures up to 400°F (204°C) for up to 2 Hours
Optimal thickness at 1.8 mils (47µm) for easy Handling (50% thicker than competitive release films)
No embedded impurities
Extremely low X&Y Axis shrinkage with reduced static potential
Essentially inert: no out-gassing, no plate residue, no inter-laminar adhesion influence, and no vacuum system contamination
Environmentally friendly: no Ozone depleting chemicals, no fluorine's
"LE" low extractable offers a cleaner surface free of residues with minimum extraction characteristics
RECOMMENDED LAMINATION LAY-UP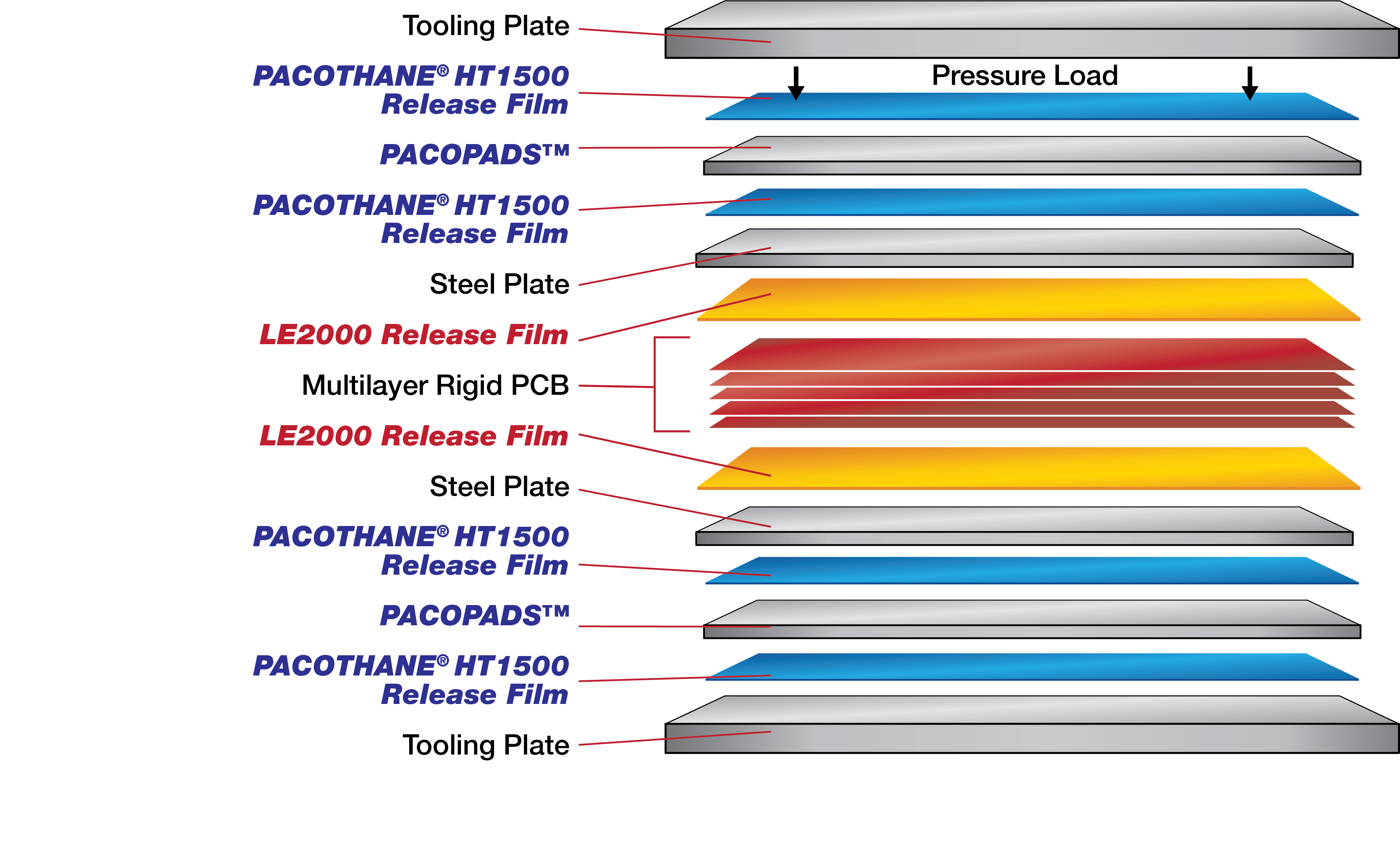 DESCRIPTION OF STANDARDS
AVAILABILITY
PACOTHANE® LE2000 RELEASE FILM is available in rolls or custom-made sheet sizes, tooled to customer specifications. The complete line of Pacothane Technologies products is available from leading local Distributors Worldwide who offer "Just in Time" delivery from locally-available stocks.
SAFETY